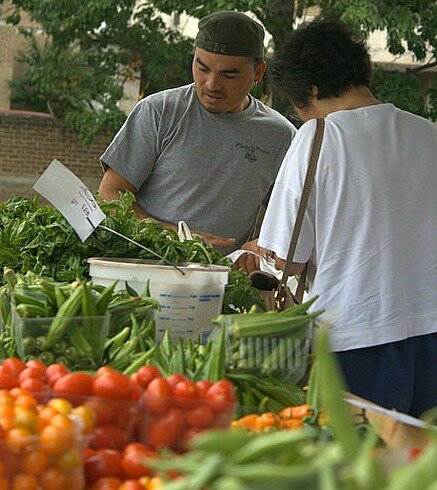 My nine siblings and I spent our childhoods working on our 80 acre family farm. We had the responsibilities of adults. When we weren't in the fields working, we were at the Farmer's Market selling our produce. On Sundays we had to unload trucks and clean the barn.
We used to dream of what it would be like to spend a day at the beach, ride bikes or play sports. When we were teenagers we weren't allowed to date until the work was finished. Our dates would wonder why we fell asleep at the movies!
My older sister Roe and I would wonder aloud what it would be like to get paid for our work like our cousins who picked blueberries every summer. We envied them because of their dream job!
We never had the chance to be normal kids but the gift we did gain was our work ethic. We learned how to rise early, be accountable and complete tasks. We learned how to drive tractors and trucks and irrigate and plow the land.
We learned how to protect the crops from frost and how to tell when watermelon are ripe enough to pick and eat. We woke to the sound of roosters and went to bed only after the last tomato was sorted.
We learned how to sell, cooperate, communicate, be reliable and lead.
We built character.
We discovered strength, discipline and a positive approach to work. We fell in love with growing our food, the smell of the earth, getting our hands dirty and spending most of our time outside.
Today, my work isn't as difficult or long. Now I get to design my life and live my dream the way I choose to. To a certain extent most of us can.
If you have an eight hour job and sleep seven hours a night, you still have nine hours to do as you please.
How are you enjoying your time? What kind of routines would you like to break out of?
It's up to you to drop your excuses and take bold action. You have the freedom to begin today.
The following steps will help you live a bold and juicy love-filled life.
Set an intention of love. Make an intention to feel love. Choose to appreciate your work and love your life. Fill it with the loving people and experiences you enjoy. Don't over commit.
Appreciate your routine. Slow down your pace. Spend time every day doing what you're passionate about. Think, speak and act from a soft and centered place.
This one step will effect your relationships and change your life.
Enjoy simple pleasures. Revel in the smell of grass. Walk in the rain. Taste your food. Go on a picnic. Spend time in the park. Appreciate the smell of clean clothes. Gaze into your lover's eyes. Notice the different shades of green in nature.
You'll have to turn off your cell phone to really appreciate these simple pleasures. Don't live on auto-pilot.
Expect the best. Choose to have a positive outlook on life. When you do good, you'll receive good. When you expect the best, you'll get the best. When you act out of love, love will find you. Choose wisely. What you think and expect is up to you.
Smile and laugh. Don't take life so seriously. Lighten up. When you're intense, take a break. When you're angry, breathe. Learn to let things go.
Don't let other people or situations take away your happy. If you aren't smiling and laughing, you have a problem. Solve it and move on.
Embrace fear. Don't allow fear to hold you back. Introduce yourself to new people. Try new things. If you want something different, you have to do something different. Take action.
Begin with small steps and work yourself up to quantum leaps. The time is now. Don't delay your happiness.
Love yourself. Love is a verb. Keep a clear mind. Don't fill it with negative media or violence. Take care of your body; eat healthy and exercise. Spend time in nature, meditation or prayer.
Do what it takes because you'll be with you for the rest of your life.
Treat yourself. Don't deprive yourself of wonderful things. Take a day off. Go on a trip. Get a massage. Eat at your favorite restaurant. Buy expensive chocolate. Use your best dishes. Know what you want and then purchase it without guilt. You deserve the finer things in life.
Enjoy yourself. Spend time alone to sit, reflect, write and dream. In your free time do activities that you love: garden, cook, paint, hike or attend concerts and movies. Don't plan your life around others. Do what you need to do in order to design a juicy, bold and love-filled life.
Please help me share the positivity on Facebook and Twitter!
1/2 Off Courage Coaching is still available. If you need help
designing a life that you love, I'd love to support you!
If you have any questions email me [email protected]
Click here or on the image below to learn more.