Warning! My blog will challenge you to be more, give more, live fearlessly, take more chances and show up in the world unstoppable, daring and bold.
Hi there, Ann-Marie here from Wilma's Blog where I co-blog with my buddy, Wilma.
Our blog is part of WomenLikeMe, an online learning program which encourages women to embrace living life differently by questioning the status quo and becoming skilled to live into their greatness.
The text read; "It's a boy, all healthy weighing 2.94kgs. His Mum is in recovery and doing well'. I was filled with love, pride, happiness and immense joy for my sister, who had become a mum against all odds.
When my sister was born my parents were bombarded with a barrage of 'She can't do this and she'll never do that'
Doctors were busy predetermining my sister's life, squashing it into a box they called 'having a disability', named Spina Bifida.
My parents were devastated at first. Teary eyed, frightened and out of their minds with worry they hung onto every disempowering word the doctors said.
One thing that the doctors and society for that matter, didn't count on that day was my sister's incredible strength.
They didn't see HER; her be-ing, her soul and her willingness to live this life to the full, a life that she, like everyone else had been miraculously given.
All through her life she faced the world with an 'I can' attitude.
So we included her, always. She played all the games we played, from jumping rope carried on our hips to snow fights to pushing a doll in a pram with a specially designed walking frame.
Upon reaching her teens my parents reluctantly passed the reins over to her. Up to this point she'd had operations every two years. From now on she could decide which operations she would have. She also got her drivers license and a car.
My parents had a hard time letting go, expecting my sister to be dependent on them forever, but she never bought into that.
When my sister was made redundant, she and her partner came to New Zealand for one year. I enjoyed introducing her to many things that year, one of them being integrity.
'Below the integrity line, our behavior is one of blaming, excuses and denial. Above the integrity line our behaviors are ownership, accountability and responsibility'
She recognized these words instantly; they described what she was about. Upon returning to Ireland embracing this explanation made her even more conscious about how she created the life that she desired.
Then at Christmas last year she called to say "I'm going to be a Mommy".
She continued to choose a successful career in the health system. She and her husband bought a house, she bought the car of her dreams, a Mercedes and she traveled to the places she had always wanted to visit; Mexico, Paris, New York and Australia.
My husband's response to any expressed worry was; "She has an amazing attitude, she ensures things work out, so why should this be any different?"
And he was right. Again my sister did not buy into other people's restrictive thinking.
While very few believed that she would carry her baby full term and most saw her spending months in hospital before the birth, her response was to
get on with a healthy pregnancy.
She did of course have a healthy one thanks to a rock solid belief in herself and her strong heart. While embracing her disability, owning it 100%, Spina Bifida became as much a part of her as her hands or face.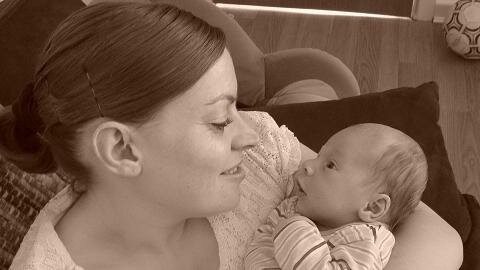 My sister has yet again passed another milestone; she has become a mother, having carried her baby full term.
I love and admire this strong, beautiful, generous and determined woman, my sister, who is so clearly the author of her own life.
By taking ownership she got the freedom to accept herself for who she was, it made her get on with life the same as everybody else and in the process she has become an incredible example on how to boldly live life. 

No related posts.
Subscribe: Did you enjoy this article? Subscribe for free by RSS or e-mail and you'll always know when I publish something new.
Share this post    Stumbleupon  |  Digg  |  Del.icio.us  |   Twitter