Most of us fail to change a habit because we try to do too much too soon. We want to lose 10 pounds in a week. We want to run a mile the first time we lace up our shoes. We want to declutter our home in one hour.
Life doesn't work that way. I believe that all real change is slow. The key is to stay in the present. When we become frustrated and impatient remember there is only now. Breathe and focus.
When we fail to do something, begin again. Take a simple, single step and proceed.
Don't try to change too much at once. Take one of the small but powerful habit below and take an entire month to incorporate it into your life. Then move to the next.
One small change at a time, you'll make it a powerful year.

1. Get up 15 minutes earlier each day. Spend this extra time in silence. Set an intention. Decide how you want to spend the next 24 hours. Small penguin steps create lasting change.
2. Forgive someone. Before you fall asleep, review your day. Let go of any bitterness or resentment you have. This will create an incredible peace and calm that will touch your soul.
3. Be brave. Choose to do one thing that scares you every day. Begin an exciting project.  Tell someone you love them. Give someone a compliment. Introduce yourself to someone that you want to meet. Move from fear to freedom.
4. Spend time alone. Be gentle and kind to yourself. Meet your own needs. Celebrate who you are and who you are becoming.
5. Learn to pause. Take mini breaks throughout your day. Get away from your computer. Take a five minute time out in between your various tasks.
6. Eat your veggies. Find one you like. Give it prime space in your diet. You're investing in a healthy future.
7. Have fun. Find one fun thing to do every day. Take time to giggle and laugh. When you lighten up, you brighten up.
8. Accept yourself. Be proud of who you are. You are more than your weight. You are more than your flaws.  You are enough. As Buddha so wisely said, "You yourself, as much as anybody in the entire universe, deserve your love and affection."
9. Release debt. Stop buying things you don't need. Stop all recreational shopping. Begin saving for your future.
10. Learn to deal. Everyone experiences challenges and tragedies. Use effective coping strategies. Don't numb yourself to life's pain. Keep it simple. When life is difficult, take a time out.
11. Choose to be grateful for what you have. Gratitude increases abundance. It makes you feel like you're on top of the world.
12. Look for the good. Notice what goes right in your world. Notice what you get right. What you focus on expands.
13. Be open to different. Spend time with different and unusual people. Expand your knowledge. Be willing to see things from a different standpoint.
14. Accept others. Release judgment. Give everyone a break. Allow people to be exactly as they are. Always bring your focus back to yourself.
15. Be a positive storyteller. If you dwell in the negative, train yourself to see the bright side. Feed yourself positive stories about your future. Create stories about your beautiful self, your abundance and the love you have for yourself and life.
16. Do what you love to do. Do you love to paint or dance? Make room for it in your life. Do you like to sing or run? Schedule time for the activities you enjoy. You are in charge of how you spend the hours in your day. Do what you love.
17. Smile more. Practice smiling throughout the day. When you smile, you shine. People notice. You feel better. Try it!
Habits change with small consistent steps. Learn to be gentle with yourself. Celebrate small successes. Keep moving forward no matter what. I believe in you!

Interested in joining The Bold & Courageous Mastermind Inner Circle? Get support and guidance and have fun! I just added two new bonuses for anyone who signs up before 12 pm EST on December 31st! A one-on-one coaching session + a FREE bonus month! Let 's do the impossible in 2014! Join today!
Bold & Courageous Mastermind Testimonial…
"Tess Marshall's Mastermind course opens your heart, mind, and soul. Tess is a cheerleader and visionary, walking the path and lighting the way for all who travel with her. She establishes trust and supportive connections among all in the group, and reaches out to all individuals, urging honest introspection to help them define and articulate their ultimate desires in creating the lives they truly want.
Tess illuminates the extraordinary that is present in the ordinary moments of our lives, motivating us to appreciate the wonder and grace of daily life, and then empowers us to live the unlimited potentials of it." ~Darlene Charles Click here to learn more. Because nothing changes, until something changes;)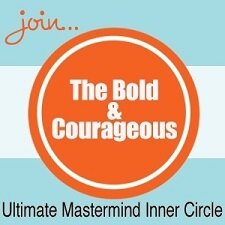 The world needs more bold and courageous people! Please help me spread the love by sharing on Facebook and Twitter. Thank you!