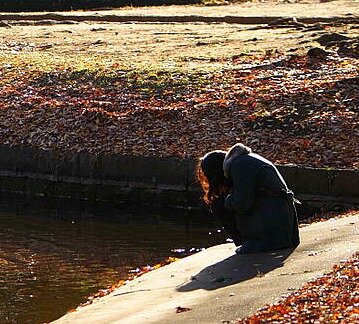 Guest post by my good friend Elle Sommer is the founder of Reflecting A Life
Slow breathing is like an anchor in the midst of an emotional storm: the anchor won't make the storm go away, but it will hold you steady until it passes. – Russ Harris

Panic attacks. I didn't know anything about them. Never even heard of them. Till I had one.

It was years ago and they struck seemingly 'out of the blue', except we all know there is no blue, don't we? Life doesn't happen to us in a vacuum.

I can tell you it wasn't very nice…they would sneak up on me when I was least expecting it and before I knew it, there I was in this place of…well panic.

For me it manifested in a strange shaking of the head and an inability to hold even a nice cup of tea without spilling it over my trembling hands.

Back in those days, in England, I don't think it was even called a panic attack and not knowing anything about anything I took myself off to the doctor, who promptly prescribed valium.

What?

Not likely…I've never been much of a pill taker and anyway I thought valium was for unhappy women of a certain age and I certainly didn't fit the bill.

I had no coping skills for anything like this, I was young, healthy with everything going for me or so I thought. But one thing was certain, the doctor didn't know what he was talking about.

Aaah the confidence of youth.

No matter, I was going to fix it myself. It was too challenging to live in fear, never knowing when panic would sneak up from behind and I didn't intend to spend my life looking over my shoulder…I had too much living to do.

But where to start?

Worrying time
I realized that I was a bit of a worrier. No, let's be honest, I was a pretty darned good worrier, in fact if there were medals handed out to worriers there's no doubt I'd have been a big winner.

If there was anything to worry about I could find it. I even worried about things that didn't really need to be worried about…it's what I did. It came naturally to me. The mundane, I could worry about, the trivial, I could worry about, the past I could worry about, the future I could worry about. Whatever it was you can bet I could find something in it to worry about.
The only reason all this worrying didn't bring doom and destruction down upon my head was because paradoxically my natural state is one of happiness. I know the question you have, how could I be a worrier on the one hand and a happy camper on the other? No idea. It's just how it was.

It must have been happy me that decided I didn't need to worry the whole flipping time, I'd just save all my worries up for a good half hour worrying session at the end of every day.

So every time a worrying thought meandered through my little head I would say uh uh…come back at six…and I'll entertain you then.

The first week, it felt odd. I'd schedule my worrying time and send the little blighters packing if they came knocking too early. But then I found I couldn't find enough new things to worry about for half an hour, so I reduced it to fifteen minutes, till that got hard to fill too.

If you're a worryguts like I was, give it a whirl…you'll probably find it funny, as I did, that when you're in control of worrying time, the stuff you thought you had to worry about begins to disappear. Maybe it just doesn't like being that organized.
My first ever journal
I'm not particularly left brained, so this one was a surprise to me. And I didn't call it a journal, it was just my little book of worries. I decided I'd not only take half an hour a day and let all my worries run rampant but I'd take notes to see what popped up the most.
I wanted to see what the themes of my worries were. If there was one, given that I was a champion worrier. But I pressed on.

I created headings. Finances. Family. Job. Relationships. Health. Spirit.

I thought knowing where I was most vulnerable to worries might help me recognize any that slipped through my little safety net of worrying time.

It also helped me get clear on what was simply a normal concern versus a real worry. Funnily enough most things turned out to be simple concerns that I didn't need to run round and round in my head, blowing them up into gargantuan demons.

This might explain why, as I continued these practices, the worries began to diminish.

Something wonderful
It seemed to be necessary to find something more wonderful to focus on. Bear in mind I knew absolutely nothing about the concept that my thoughts and feelings were little magnets bringing my thoughts and feelings into the reality of my life.

I was totally oblivious to the fact that we live our lives based upon what we believe about ourselves, our world, about one another, about our limitations and our capabilities.

Nor did I know that I couldn't let negative emotions fill my mind without experiencing the consequences. Or that the opposite was true, filling my mind with the expectation of something wonderful would bring about wonderful experiences.

But something within decided I needed to focus on something wonderful and I determined that there must be plenty of wonderful things to think about and all I needed to do was to find them.

Hmm. What might help with this? I began to experiment, and each night, I'd fall asleep mentally affirming to myself isn't it amazing, something wonderful is happening for me.

Wonderful things began to appear. I was offered a holiday in Spain, a trip to visit family in Canada, amongst other wonders. Today I know why I was getting wonderful things to concentrate on, it's because everything we focus on as you fall asleep is being imprinted into our subconscious mind and we all know that's the powerhouse of our creativity.

Nonjudgment
Judgement wasn't helping. Seeing myself as a hopeless case wasn't helpful. Seeing myself as less than, because I'd had panic attacks, wasn't helpful. The more I judged, the more fear had me in it's grip and the more it had me in it's grip the more I was feeding it, increasing the chances of yet another panic attack.

And basically I didn't like them too much. I wanted to drink my tea, not spill it all over myself.

Most mornings I'd wake up and tell myself it's a non judgement day. No judging myself or anyone else and I found those days would turn out to be almost magical.
There were times when it felt that all I received was total abundance and success and I realized it was because I wasn't judging things out of the way. The barriers between me and the things I desired were being dissolved.

Oh yes, an added bonus…the panic attacks disappeared in the process.

What works for you? Are you willing to look within and challenge your fears. We know that each of us has that indomitable spirit within, calling us to expand and grow.

Why not share your secrets in the comments below. You just might have one that helps many move through a fear that's stopping them from living their best life so far.
Elle Sommer is the founder of Reflecting A Life, where each week she shares actionable wisdom that points the way towards living a richer life in relationships, finances and spirit. Elle's mission is to motivate and encourage everyone to create the life they want.
Are you ready to commit to your dreams?

You can go beyond what you think is possible! The time is now to increase your confidence and blaze a new trail. If you are ready to do great things then book your free 20-minute consult with me and let's talk about your personal plan for greatness! Click on my coaching page.