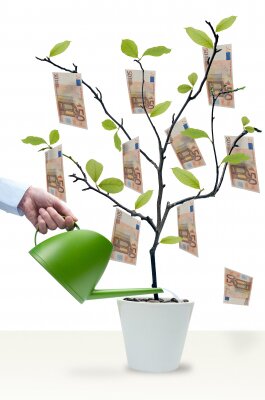 We tend to forget that happiness doesn't come as a result of getting something we don't have, but rather of recognizing and appreciating what we do have. ~ Frederick Keonig
We live in a cultural vortex of scarcity. It's hard to escape it. Everyone gets sucked into "not enoughness" some of the time. Everyone runs scared once in a while.
However, if you are in a constant state of worry and fear about your finances and your future, your core belief is in scarcity. If you believe in lack, no matter what you own or how much money you have, it will never be enough.
Abundance is a state of mind.
Sufficiency isn't two steps up from poverty or one step short of abundance. It isn't a measure of barely enough or more than enough. Sufficiency isn't an amount at all. It is an experience, a context we generate, a declaration, a knowing that there is enough, and that we are enough. ~ Brene Brown
I was 17 and pregnant when I got married in 1972. I didn't have a dime in my pocket. Hubs had $1.00 in his wallet.
We had a big Polish wedding and most of the guests gifted us with money. It's tradition. We knew we would do well and we did. That was the extent of our plan!
In a recession you can still succeed.
There was a recession in the U.S. from 1973-1975. We were too blinded by love to notice or care. Hubs worked in a factory and I planted flowers on two acres of land and sold them at the Farmer's Market. We both had a lot of energy and we inherited strong work ethics.
We were clueless, in love, and crazy-busy. Without a real plan, we became parents to four girls by the time I was 22.
The crazy thing is that we never really worried about never having enough.

I shopped garage sales. We didn't go out for dinner or entertainment. We played cards and board games with other couples. Our car was old and rusty. It didn't matter. We laughed about it.
Fear is irrational.
Today we don't have near the responsibility we had then. Today we have a plan in place. I look back at those early years and I know that today we're on Easy Street. I don't have a reason to fear my future and yet I sometimes do.
The key to an abundant mindset isn't to get rid of your fear. We have strong ego's that will continue to pull us back in. The key is to have a plan in place for fearful moments.
9 Tips to build your abundant life toolbox:
If we do not feel grateful for what we have, what makes us think we'd be happy with more? ~ Unknown
Be full out joyful and grateful for everything. Put your focus on what you do have. Put yourself to sleep by counting your blessings. When is the last time you were grateful for the shade of a tree, your morning coffee, or the hot water for your shower?
We're accustomed to having so much that we don't realize how fortunate we are until we lose something or something that we have quits working.
Shared joy is double joy; shared sorrow half sorrow. ~ Swedish Proverb
Share your blessings. Author Neale Donald Walsh states, "If you want something, you need to first give half of what you already have to somebody else." Think on that one sentence. What will you share today?
Those who are the happiest are those who do the most for others. ~ Booker T. Washington
Serve others. Productivity is not a purpose. Serving is. Give without any thought of receiving. Give your time, money, and talents. Share smiles, hugs, and laughter. Never keep score. Give because it's good for your well-being. Give because generous people are happy people. Give because you see possibility everywhere.
It takes as much energy to wish as it does to plan. ~ Eleanor Roosevelt
Create a financial plan. Learn how to make and manage money. Live within your means. You will gain happiness, clarity, and peace for what is and what may be.
The world is nothing but my perception of it. I see only through myself. I hear only through the filter of my story. ~ Byron Katie
Spin a positive story about your past, present, and future. Change the stories that you tell yourself. Fill them with joy, happiness, fun, and love. Believe that life loves you and the world is plotting to do you good today.
At times our own light goes out and is rekindled by a spark from another person. Each of us has cause to think with deep gratitude of those that have lighted the flame within us. ~ Albert Schweitzer
Gather support. One of my clients has a fear of being a homeless person. I asked her to list the names of everyone that loves her. Next I asked her to cross out the people on the list that would not help her in times of trouble. She couldn't cross out anyone.
Fear thrives in loneliness and isolation. Reach out to family, friends, a coach, or a support group. Asking others for support is always a wise choice.
There are many things that are essential to arriving at true peace of mind, and one of the most important is faith, which cannot be acquired without prayer. ~ John Wooden
Ask for guidance. Pray. Meditate. Listen to your intuition. Use affirmations. Do what works for you. Do it the moment you begin to feel fear. Don't quit until you feel safe.
The greatest wealth is health. ~ Virgil
Honor yourself. Do what it takes to be physically, emotionally, and spiritually healthy. You'll have the energy you need to create an awesome life for yourself in spite of your fear!
The next thing you think, the next action you take, will either create a new possibility for you, or it will repeat the past. ~ Deepak Chopra
Take action. Do what you are afraid to do. Don't make excuses. Don't be a victim. Life changes when you change it. Begin today.
Do you fear not having enough? Are you afraid that you will lose everything? How do you deal with "not enoughness?"

Please tweet and post this on Facebook. xo