Bold Living Series Interview #2
My interview today is with Sibyl Chavis from Possibility of Today. She's on a mission to make our world complaint free.
Tell us about one life experience that has helped you become the person you are today?
One life experience that has definitely shaped who I am was a challenge I completed. I gave up complaining for 40 days. It may not sound like an amazing life experience or anything really significant, but it was the part of my journey that literally changed my life … forever. After I completed the 40 days, I no longer saw the world the same way.
I never imagined that ending my complaining would have such a profound impact on my life, but it opened me up to experience life the way it was meant to be lived. It was the spark that opened me up to living in a different way and I haven't been the same since.
There are just so many benefits to removing negativity from your words and from your mind. It allowed me to focus my attention and energy on the things they should be and on creating those things I really wanted. I was able to see a very important lesson and universal truth at work …
"What you focus on expands, and when you focus on the goodness in your life, you create more of it." Oprah Winfrey
Do you have a morning routine that set the tone for your day?
I definitely have a morning routine now, but the importance of having one was definitely a lesson I admittedly learned later in life. It is so great to begin your day with a routine that centers you and makes sure you are ready to start the day.
A main part of my morning routine is to read a manifesto that reminds me of all the possibilities I have to live the day in an amazing way. To live in a way where you don't allow the "stuff of life" to monopolize all of your attention and you carry your underlying knowingness of who you really are and what really matters in the background as you move through the day. One of my most favorite parts of the manifesto …
"Everyday, think as you wake up, today I am fortunate to be alive, I have a precious human life, I am not going to waste it. I am going to use all my energies to develop myself, to expand my heart out to others; to achieve enlightenment for the benefit of all beings. I am going to have kind thoughts towards others, I am not going to get angry or think badly about others. I am going to benefit others as much as I can." – Dalai Lama
Whose philosophy or lifestyle has most influenced the woman you've become?
There really are so many people I admire and whose philosophies I have learned so much from. Some that come immediately to mind include: Eckhart Tolle, Dalai Lama, Wayne Dyer, Oprah Winfrey, Thomas Troward, and Deepak Chopra.
What is in your toolbox that allows you to overcome fear?

Sometimes I can rely on my confidence to overshadow fears and other times I have to turn to my belief that you can always move forward even with fears on your back. A lesson I have learned is that it is okay, and somewhat expected to have fears. The important thing is not that you are completely free of fears, but rather that you don't let them hold you back or convince you to not go after what you really want.

Can you tell us about a bold action you've taken in the past month?
I had to let go of something I invested a lot of time and energy into so I could make room in my life for something new that is more important to me. I am sometimes not the greatest at letting things go, but there are those times where it is necessary to just move on.
"Sometimes good things fall apart so better things can fall together." Marilyn Monroe
What are you currently reading?
The World's Wisdom by Phillip Novak.
If you had the opportunity to give the world a 60 second message what would it be?
There really is a different way to live. We can live in a way where we still take care of and focus on the things that are very important to us: our family, friends, job, responsibilities, goals, and whatever else life may throw our way; but, at every single point of the day we can be centered.
Don't get overwhelmed or allow things to feel too heavy. Remain grounded in the present moment and experience what it means to have a continual peace of mind. Be attentive and deliberate with all of your actions. Live consciously.
Pursue your passions. Continually tap into your potential and accomplish your dreams. Time and time again, aim and achieve all that is possible.
This is how you were meant to live and experience life. When you live this way your talents come more and more alive and you accomplish more than you could ever imagine. Take advantage of all the possibilities of Today.
Please join The Bold Life for free and receive my free guide, Peace, Love, and Connection. Please share this post with a Tweet and a Like.
Related Posts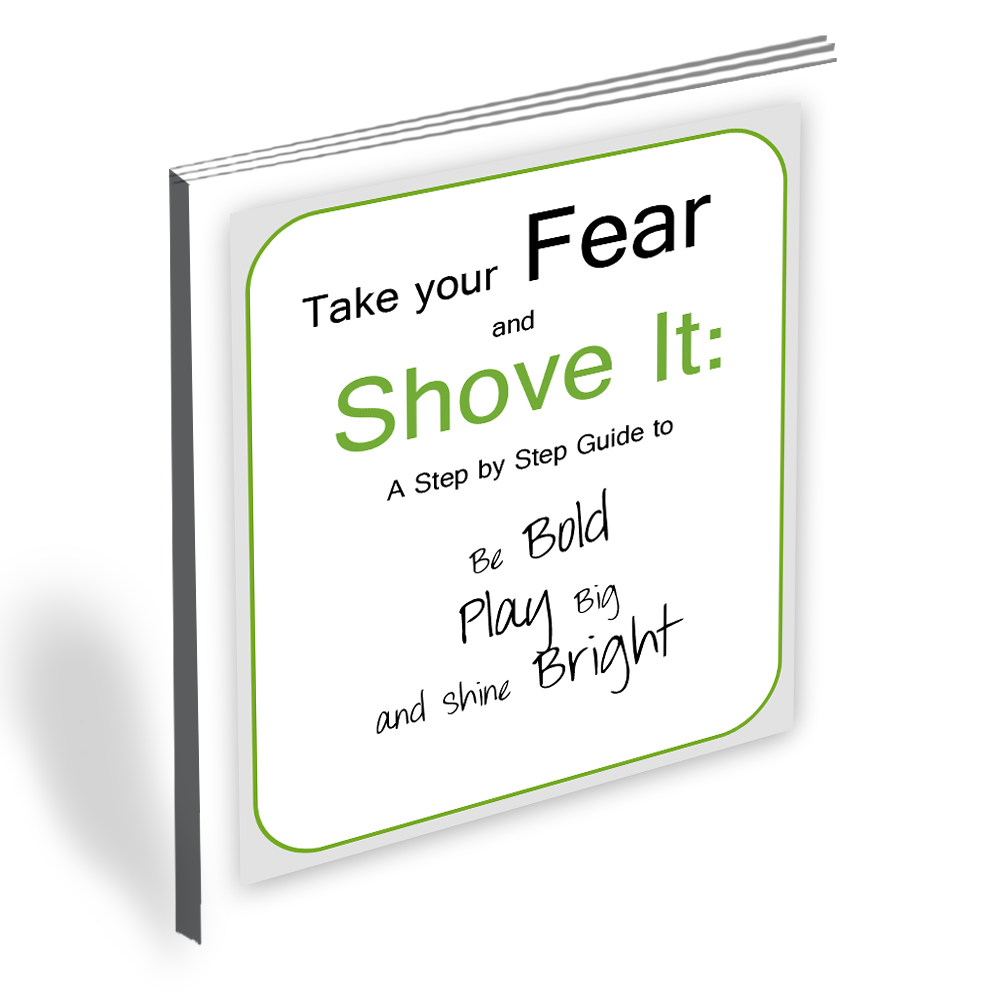 Take Your Fear and Shove It!
A Step-by-Step Course
Be Bold, Play Big, Shine Bright

Rise above fear and open yourself to infinite opportunities!
Join the pre-launch waiting list
by
entering your email below.