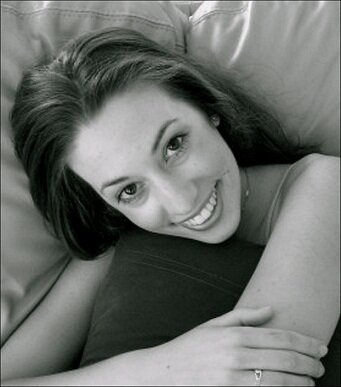 Caroline McGraw is a would-be childhood paleontologist who digs for treasure in people. She writes about finding meaning in your most challenging relationships at A Wish Come Clear. Likewise, Caroline empowers women caring for people with disabilities to navigate transitions successfully at Your Life, Supported!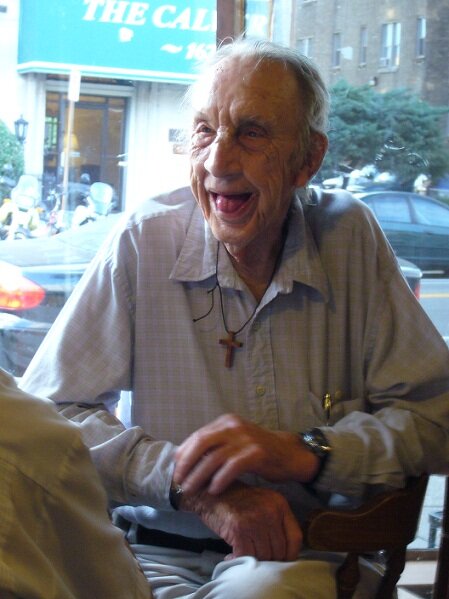 My dear friend, former housemate and surrogate grandfather Gene (Eugene Vincent) died last week, and yet, in so many of the ways that matter, he is alive for me.
I met Gene through my work with L'Arche Greater Washington. L'Arche is a non-profit, faith-based organization that creates homes where people with and without intellectual disabilities share life together.
This description may make L'Arche sound like a 'good cause' or a 'nice thing to do'. In reality, L'Arche's existence means the difference between life and a living death for people like Gene.
You see, Gene spent decades at an institution called Forest Haven. It was a place of neglect, abuse and desperation, a place that degraded and dehumanized.
Gene's job at Forest Haven (not that he had a choice) was to be a pallbearer at the institution's funerals. Each week, he would carry the caskets of those who had died friendless and alone.
Living Through + Living For
Yet despite the horrors he lived through, Gene did not let himself become a bitter person. He did not close his heart to life, though life seemed to have closed its doors to him.
And then, mercifully, Forest Haven closed and Gene was accepted into L'Arche. He was welcomed by people who valued and respected him. His gifts were celebrated, and his disabilities supported.
An essential component of a shimmering and soul-satisfying life is the knowledge that we are loved and needed, and Gene had that in spades. He surpassed the predictions of medical personnel, living until age 81 despite a host of chronic diseases and 2 cancer diagnoses.
When I think of Gene's life, I realize: it's amazing what we can live through if we have someone to live for.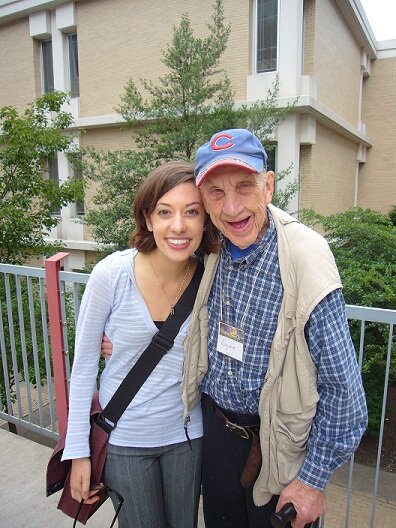 A Song To Set Him Free
On the night before Gene died, I was eating dinner alone in my apartment. Suddenly, I was struck by a visceral knowing: this is Gene's last night. This will be the last time I can see my friend. Trusting that intuition, I moved quickly.
On his final night, my husband played a song on the guitar; other L'Arche members rubbed his skin with lotions and wiped his brow with cloths. Gene was never alone in his last days; the entire community rallied around him. I held his hands in mine and told him all the best stories I could think of, the good times we'd shared together.
In our last moments together, he offered us a gift in goodbye: though he couldn't speak, he held my hand. Though he couldn't hug us, his face lit up when my husband played and sang. When I told him goodnight, he squeezed my hand, hard. I held back tears and sang him a line from a song we both loved: The Wailin' Jenny's 'Glory Bound'.
In that moment, all I could remember was a line from the chorus – 4 soaring Alleluias - so that's what I sang to him. I felt a glimmer of self-consciousness, as my voice was wobbly with tears. But it didn't matter. I wanted him to feel loved more than I wanted to feel dignified. I wanted him to receive what I had to give, imperfect though that gift might have been.
I didn't realize how apt those alleluias were until later that night, when I remembered a beloved passage from Madeleine L'Engle's book, A Ring Of Endless Light. The speaker is a dying man who is somehow filled with hope. He says, "'All of us go down to the dust; yet even at the grave we make our song: Alleluia, alleluia, alleluia.'"
A Beautiful Justice
At Gene's funeral, I wept at the loss of my friend, but I rejoiced at the thought of his freedom. He'd been imprisoned first by an institution, then by pulmonary disease and lung cancer. But on the day he died, he became free again.
As I watched his burial, I realized the beautiful justice of what I was witnessing: Gene's body was being borne into the ground, yet all of hispallbearers were people who loved him. In the end, he was carried by those who had cared for him. Pall-bearing had been an act of forced labor for Gene, but it was transformed into an act of compassion by those who loved him.
And that, I think, is what we're here to do: to become agents of alchemy for others. To witness and heal wounds. To reach out, because it can make all the difference. To step in and act with love when others have acted with hatred. To never, never give up on the grace that surrounds us all.
Beloved Upon The Earth
When I consider Gene's life and death, I don't think of the injustices he suffered, or the way his absence has left a hole in the fabric of the L'Arche family. Instead, I'm reminded of Raymond Carver's "Late Fragment":
And did you get what
you wanted from this life, even so?
I did.
And what did you want?
To call myself beloved, to feel myself
beloved on the earth.
After all, I believe Gene would have wanted it that way.
Please leave Caroline a message and make sure you check out her blog at A Wish Come Clear.