photo credit: kevindooley
As you plan your holiday season decide what you want to experience, take action and enjoy!
Holidays are what we make them. Please join me in creating joyful and peaceful memories.
1. Plan time for silence. Become grateful for all you have. Include the difficult people and difficult times in your life. We have so much more than we know.
2. Do less. Plan ahead. Make a "to do" list beginning with the most important item. Delegate.
3. Buy less. Make a grocery list and plan enough time to shop. Be patient. Prepare for long lines and traffic.
4. Eat slowly and eat less. Resist the temptation to put too much on your plate. Wait at least 10 minutes before taking a second helping. Relax, breathe and smile.
5. Offer to help. Look for ways to lighten someone's load. At the very least offer to clear the table when everyone is finished eating.
6. Be kind. Compliment somebody. Take genuine interest in what is going on with others.
7. Don't bring up old grievances. If someone else does, change the topic.
8. Forgive everyone. Examine your heart and sweep out any old hurts, resentments or anger.
9. Exercise for at least 20 minutes. Get your "good mood" going. Play outside. Go hiking, biking or walking. It will make the day more pleasant for everyone.
10. Share good times. Ask everyone to share a happy memory as you gather around the table. Share your laughter and your blessings.
11. Do good.Visit a nursing home, an elderly neighbor, or a homeless shelter.
12. Give the gift of yourself. Play board games or go for a walk together. Limit screen time…television, computer, computer games, video games, iPods, etc.
13. Embrace your family and friends. Tell them how much they mean to you. Say "I appreciate you" at least 5 times today.
14. Limit your time commitments.Schedule down time. Be good to yourself.
15. Lower your expectations of others. You won't be disappointed. Remember everyone is doing the best they know how to do. Keep your focus on yourself.
16. Be there for others. Listen. Listen. Listen. Don't add your problems to the conversation. Leave your preferences and opinions at home. Make it about "them."
17. Share your love. Genuinely look into the eyes of others and silently bless them.
18. Shine. Be the fun you wish to have!
Please join The Bold Life for free and receive my free guide, Peace, Love, and Connection. Please share this post with a Tweet and a Like.
Related Posts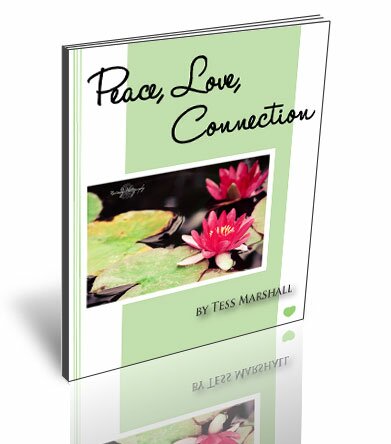 Sign Up & Receive Instant Access to
Your FREE Gift:
Peace, Love, & Connection

Learn how to successfully cultivate these three qualities in your life.
The flow of inspirational gems will spark tenderness and joy within your mind, heart, and soul.
You'll also receive fantastic tips, discounts, blog posts, give-always & more!