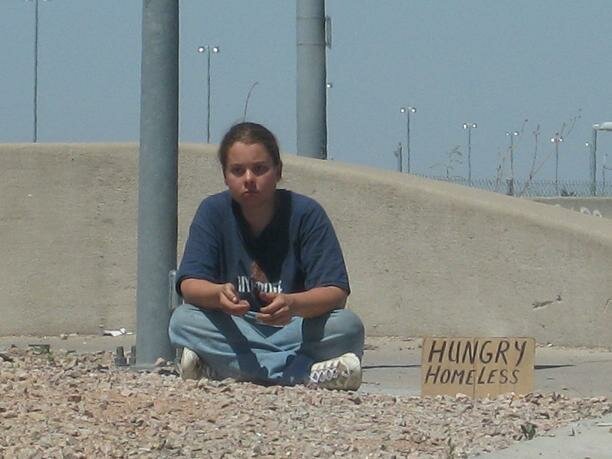 "If you can't feed a hundred people, then feed just one." -Mother Teresa of Calcutta
I was stuck in traffic yesterday when I noticed this young woman. Not being able to stop I quickly grabbed my camera, zoomed in and took this shot. I've never seen a young female sitting on an expressway in the United States.

It's usually homeless men asking for food or wanting to trade work for food. Notice on her sign she isn't asking for anything. Then I asked myself if I could have stopped what would I have given her? I had bottled water and a few dollars in my purse.

What my heart wanted to do was turn my car around, scoop her up and fix her world. That's Somebody's Daughter!

Unfortunately I think this scene will be going away any time soon. The National Center on Family Homelessness released a report on the extent of homelessness among America's children.

The results were stunning: 1 out of every 50 children — around 1.5 million total children — will go to sleep this evening without a home reports Kristy Harden Smith.

What do you do when you pass a homeless person? Do you feel you can make a difference? Do you feel guilty when you walk or drive away?