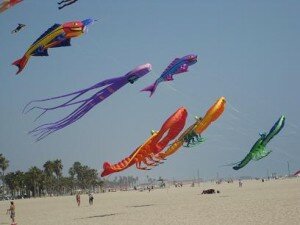 Have you checked out Travelin Local with Lisa Newton?
Lisa will inspire you not only to get out and enjoy your own neighborhood but also you'll be inspired to visit California.
Motivated by Lisa, on Mother's Day we hopped a plane (Sout West), rented a car and visited the Santa Moncia Pier.
The weather was sunny and bright, the atmosphere joyful. It can't get much better than that!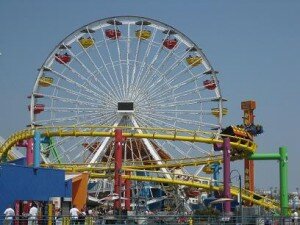 Didn't you always love Ferris Wheels as a kid? I always felt I was on top of the world if I was lucky enough to have it stop while I was on top!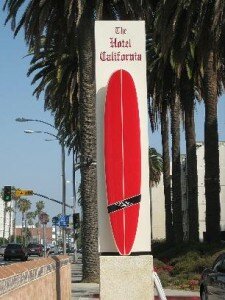 In 1977 the Eagles song "Hotel California" won the Grammy for Record Of The Year.
At the time I was 23 years old, with four daughters under five years old. I could only dream of California and that I did.
I couldn't resist taking this photo. It also reminded me of the Beach Boys and the song "Surfin USA."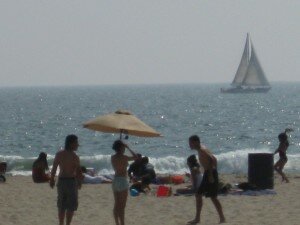 I took this photo with my zoom lense. Check out the little girl with her pony tail in the background.
We spent five hours people watching, having lunch, walking and livin it up in California before we returned to AZ.
It's so easy to get caught up in fear, doom and gloom these days. If you find that happening to you make a different choice. Go places you haven't been before. Do things you haven't done. Bring your camera and shoot for the joy of it. Thanks Lisa!
I was interviewd by Chris Edgar for a podcast. You can check it out at http://www.purposepowercoaching.com/site/?p=382
Even if you don't listen check out Chris's blog. You'll be glad you did!
When was the last time you did something unplanned and fun?
Tell me what fun there is to do in your neighborhood!
Please join The Bold Life for free and receive my free guide, Peace, Love, and Connection. Please share this post with a Tweet and a Like.
Related posts: