You're Invited…
Join me for the Art of Being Fearless Virtual Retreat on October 19th, 2014. I'm inviting nine like-minded people to join me for this one-day virtual retreat!
**** Register Today And Get The Early Bird Special! ****
It's an opportunity to break through fear and claim your courage while receiving the right guidance and support. I'll give you the tools you need so you can finally revel in the bold and happy life that you deserve.
Some of the Benefits:
Release outdated, destructive fear patterns

Increase your confidence and courage

Be wildly creative and design the life you want

Speak your truth and feel great about yourself

Claim your personal power and freedom


Make the impossible possible
You can have the life you want and deserve: one of courage, confidence, playfulness, meaning and success however you define it. Most of your fears place you in the future with a sense of lack. You may fear that you'll never have enough time, money, friends, support or love.
You may fear you'll never live a bold life. You may be afraid that you'll always be stuck in the same job, relationship or place.

You can know…
How awesome it feels to take risks, be confident, courageous and act in spite of your fears. You can know what it feels like to wake up with energy and do the difficult tasks that need to get done in order to succeed.
I know that you're worthy of your dreams and your best life, however you define it. I know that you have what it takes to become the courageous and confident person you are meant to be!
That's why I would love to have you join me in this retreat!
It's a time and a place to honor yourself, go within, open up, connect with others, be seen, be heard and be accepted.
The Art of Being Fearless Virtual Retreat DETAILS…
The Date: October 19th, 2014, from 9 am – 4:00 pm Pacific Time
It's a 7-hour block of sacred time that you can set aside for yourself. We will alternate between doing a series of sessions and exercises offline, coming together as a group for check-ins, discussion and support. We'll offer each other feedback, new insights and fresh perspectives.
There are stretching breaks, writing breaks, journal prompts and other exercises you'll love. We'll meet in a private group via Skype where we'll be able to see each other.
I've had experience leading groups both on- and offline throughout my career. I will create a safe atmosphere where we can share authentically.
Join me and the other participants for a compelling and life-changing experience.This is an awesome opportunity to work directly with me.
Where:
From the coziness of your own home!Wear comfy clothes, make your favorite beverage, light a candle, close the door and shut out the rest of the world. The retreat skips the expense of a plane ticket, hotel, meals, rental car or hassle of travel.
The Art of Fearless Living Retreat is for you …
If you want to break out of monotony and mediocrity. If you want to explore new ideas and unknown territories. If you feel jealous of others who are doing great things. If you want to take action to overcome perceived limitations. If you want to go beyond fear and pursue your dream and succeed.
Agenda We'll start out with a circle of sharing: introductions, intentions, hopes and dreams. I'll be discussing the importance of welcoming, uncovering and reframing the fear that is sabotaging your life. You'll learn how to use fear to your advantage and how to take action in spite of your fear.
Throughout the day, I'll be sharing 5 powerful life-changing practices to break your fear patterns.
These are the same ones that helped me get over my own fear!
You'll have time on your own to work on the practices that I share with the group. I'll also talk about the importance of believing the best is yet to come and how to recognize and claim the unlimited possibilities that are available to you 24/7.
It will be a non-judgmental, relaxed and peaceful space where we can be ourselves and help each other move forward in this awesome journey!
What you will receive
Membership to a private Facebook group before and after the retreat ends.

5 powerful, life-changing practices to break your fear patterns.

Exercises and writing prompts.

The opportunity to share, and give and receive support.

Wisdom, guidance and support from me.

A special gift bag delivered to your doorstep prior to the retreat!
Tess-timonials Tess explores all aspects of fear, helping us understand it, challenge it, and act in spite of it to live the lives we about. With action steps and worksheets throughout, Tess provides a detailed road map to move beyond the limitations we consciously or subconsciously set for ourselves. ~Lori Deschene
My dear friend suggested Tess Marshall to me. Wow! What a difference working with Tess has made! Her skill at listening between the lines and then asking just the right question at just the right time is remarkable and revealing. Tess helps me stay focused, positive and intentional, learning and strengthening my capacity for success with every step. I value the experience and treasure the relationship. ~ LaDonna Coy
Tess, you've done it again. Your writing is incredibly inspiring. YOU are incredibly inspiring. Everyone in the world should work with you to overcome their stuck places and get moving with their happiest lives. (DID EVERYBODY HEAR THAT?!!!) ~ Megan Bord
Tess Marshall has taught me to acknowledge my fears, set them aside and let my courage and boldness shine through. Tess is a caring and down-to-earth coach who not only encourages you to believe in your dreams, but helps you gain the confidence to believe in yourself. Thank you Tess! ~ Sandra Gardner
When love is at the center of our minds and hearts, life becomes joyful, bright and beautiful. Love is truly the answer to everything. Thank you, Tess Marshall for being there for me at exactly the moment when I needed it most. ~ Marcia Quinn Noren
Questions and Answers
How do I learn about Skype? Go to the website and download Skype and set up your account. It's free and easy to use and there's help available if you have questions. Send me a friend request. The day of the retreat I'll call you. You click on the green button that says "answer with video."
I'm an introvert, I'm nervous about speaking in front of others. How do I get over that?Everyone is nervous the first time. You'll find everyone friendly and supportive. You'll be surprised how comfortable you feel once we get going. Trust me. Take a leap. You'll be fine.
What if I can't commit for the entire time? It's not absolutely necessary. Things do come up. That said, it's important to carve out this time for yourself in advance. It's the ultimate self care!
Will the retreat be recorded? Yes. You'll receive audio recordings after the retreat. You'll have access to them forever. It's time to turn around and confront the things that frighten you, so that you can move beyond them.
The special price is just $97 (regular price is $149). There is only room for nine people!
Click below for The Art of Living Fearless Retreat Special Offer!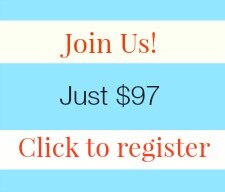 Don't let fear win. Choose to take action. Choose adventure over your comfort zone. Choose to give your attention, time and energy to your dreams! Come grow with us. You'll never regret it! I promise.
I can't wait to meet with you and introduce you to a fearless way of living. A bold world! I'd be honored to be your guide! If you have any questions don't hesitate to contact me!
For more about Tess click here. Questions? Contact me.
Please help me share on Facebook, Twitter and Google+