Farmers get up early and I was born on a farm. We worked in the fields and at the Farmer's Market as early as age five. We worked outside from spring through fall. We were out the door by 6:00 am, even earlier on the weekends.
My sisters and I worked out in the fields in the sun, in the cold, in the rain and in the midst of lightening and thunder.
We were always planting, weeding, picking, and playing on my family's 88-acre produce and trucking farm. There we chased our shadows and basked in nature and all of it's glory season after season. The contrast of the glorious colors of the sky, the earth and the fruits and vegetables were breathtaking.
We did the most difficult jobs in the morning before the sun would get the best of our energy. We often came upon intricate spider webs shining with morning dew.
Tons of strawberries, pickles, melons and green and yellow beans would be picked, packed, and loaded on refrigerated trucks for the following day at the Farmer's Market. I can still taste the tomatoes we would pick and eat from the vine as we worked. They were red, ripe, sweet and warm from the mid-day sun.
Picking melons was one of my favorite jobs. It wasn't back breaking. We would crack open watermelons on the ground and eat the heart out with our hands. The juice would drip down our chins and on our arms as we devoured the sweet seedless middle.
As we worked our way from one field to the next, I couldn't help but notice that the texture of the brown, sandy high ground compared o the black, mucky low ground was as different as night and day.
During the summer, we would catch pollywogs, swim and fish in the pond. All of my senses were heightened by these experiences.

Gladiolas are often used at funerals, but to me they hold memories, of happy creative times with my sisters. In the late afternoon the gladiolas seemed to stand in the fields at attention proud and arrayed in shining glory as if they couldn't wait for us to take them from the field and send them on their way to brighten someone's day, true to their purpose.
"Six in a bunch," my father would yell to us over the blaring radio as we chatted and filled the empty buckets with water. He left it totally up to us to mix or match the colors. He trusted us to use our intuition. It was one of our favorite times of day.
It was a sensory experience growing up on the farm. The smells, the tastes, the sights and the sounds are embedded in my memory. Often today the explosive squish of a cherry tomato in my mouth or eating hot buttered corn and acorn squash filled with brown sugar trigger sweet memories of the foods I ate as a child.
I go back in time every time I see a flower growing or a bee buzzing. Today I love shopping at the Farmer's Market. I'm swept back into childhood memories and feel grateful for how blessed I was to have nature as my playground and fruits and vegetables my mana from heaven.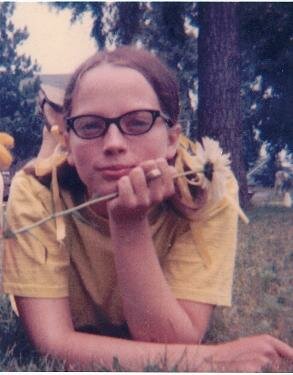 Farm Girl age 15
Photo Credits

photo credit: Baugher Webmaster Services,

photo credit: ppphotographs ,

photo credit: SidewaysSara

photo credit: OakleyOriginal


photo credit: Dendroica ceruleag

photo credit: krossbow photo credit: Sister72
Are you an early riser? What are some of your favorite childhood memories?
Are you ready to commit to your dreams?

You can go beyond what you think is possible! The time is now to increase your confidence and blaze a new trail. If you are ready to do great things then book your free 20-minute consult with me and let's talk about your personal plan for greatness! Click on my coaching page.